Maritime Security Courses
SecureScot Ltd deliver fully accredited ISPS training in Scotland (Glasgow) and elsewhere.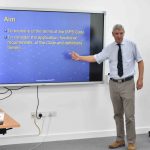 The courses offered are:
SSO Ship Security Officer (MCA and LISCR accredited)
PDSD Proficiency in Designated Security Duties (MCA and LISCR accredited)
CSO Company Security Officer (MCA accredited)
PFSO Port Facility Security Officer (UK Dept for Transport, accredited)
PFSO Refresher (taking account of all DfT updates)
SSO/CSO/PFSO (accredited as above)
MSO Maritime Security Operative (Level 3 City and Guilds 8269-03)
ISPS Awareness for Port Personnel
Recent feedback: "Very good course; Instructor passionate about subject, very knowledgeable and actively engaging." JD.
"SecureScot deliver a world class course, I learned a lot." MCA Auditor.
For more information on our courses and services please give us a call on
+44(0)141 416 7007
 or use our
online enquiry form
.